CONTACT A MEMBER OF OUR SALES TEAM TODAY
usly expand our por
JFC is a global organisation renowned for manufacturing innovative, high quality products.
Our comprehensive portfolio of material handling units meets the needs of customers in a range of industry sectors including hospitality, pharmaceutical, electronic, catering and healthcare. In addition JFC offer a bespoke service to design and develop products specific to the requirements of individual customers.
Contact our business development team to discuss your Material Handling requirements.
Newsletter Subscription
Keep up to date with everything JFC. Just click on the link below to sign up.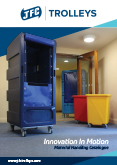 Request a Catalogue
2017 Material Handling Catalogue available on request
CONTACT A MEMBER OF OUR SALES TEAM TODAY